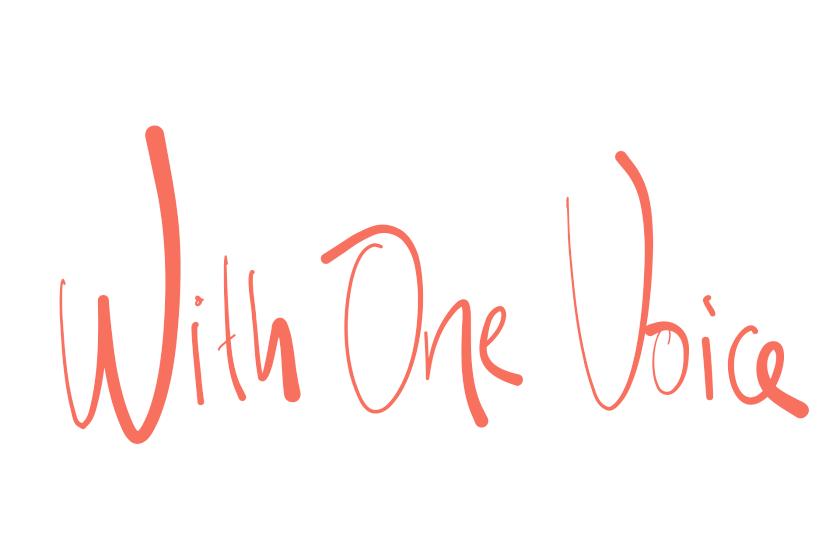 With One Voice - October/November 2023
CIAM is preparing for its 2023 General Assembly in Rio de Janeiro. Learn about the upcoming assembly, uniting creators from across the globe, a unique women's songwriting camp, our Latin America partner alliance ALCAM, an important recent submission on Artificial Intelligence in Canada, music royalties as assets, and an exploration of AI as a tool in the creative process.
Sign up to receive the With One Voice newsletter here.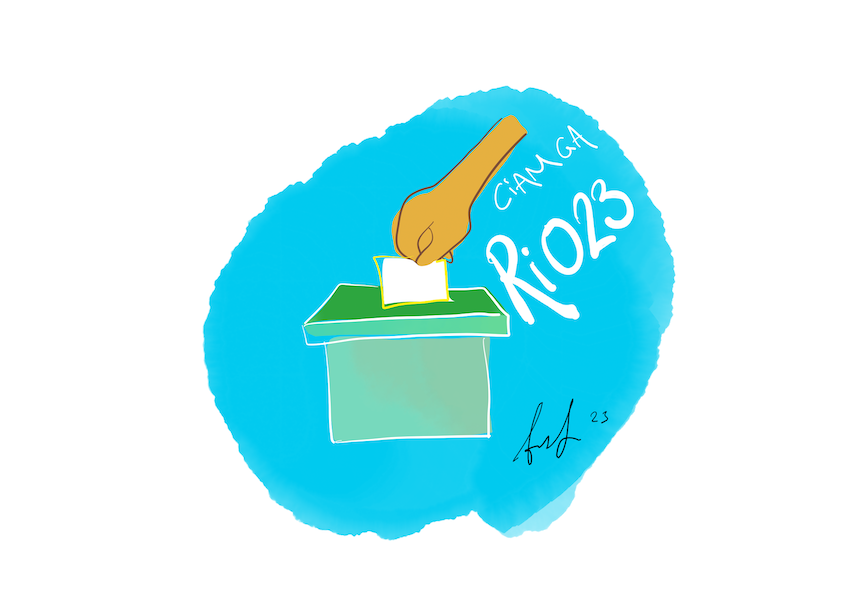 CIAM General Assembly heads to Latin America with the 2023 General Assembly in Rio de Janeiro
Music creators from around the world will gather in Rio de Janeiro for the 2023 CIAM General Assembly on November 8th and 9th. Many of Latin America's leading songwriters, composers and CEOs of collective management organizations will participate, and speak on the global cultural force of Latin American music. CISAC Director General Gadi Oron will be address the current state of collective management globally.
The assembly will also explore the rapid emergence of generative AI and its impact on music creators. Vanderbilt University PhD Milton R Underwood Chair, Professor Daniel Gervais will provide a keynote address on where the threat ends and opportunities begin with AI.
The 2023 GA will include interactive sessions on generative AI, the unique challenges creators face in Africa, discuss the Mechanical Licensing Collective, and the ongoing challenging business of music for women. It will also unveil the recipients of the 2023 Fair Trade Music International Awards. In addition, songs created during the Women Songwriting Camp, held alongside the 2023 CIAM General Assembly will be presented.
Rio de Janeiro Womens' Songwriting Camp
CIAM is proud to host a unique songwriting camp in Rio de Janeiro held on November 6th to 8th in conjunction with the CIAM General Assembly. The camp will unite talented women from around the world at the prestigious visomdigital Studios. Through fostering unity and sharing expertise in writing, composing, beat-making, and production, the camp is the latest initiative by CIAM to strengthen awareness of the situation women creators face in the music industry.
For several years, CIAM has placed improving gender equity at the heart of its activities. Women music creator membership and income across the industry is relatively low compared to male counterparts. By increasing dialogue, sharing statistics and reports, and initiatives such as the Rio songwriting camp, among others, CIAM continues to advocate for gender diversity on a global scale.
Key Latin American women artists and topliners will be participating in the camp alongside women from across the globe. A listening session featuring the created songs as well as a panel on the challenges of women in the music industry will take place during the CIAM General Assembly.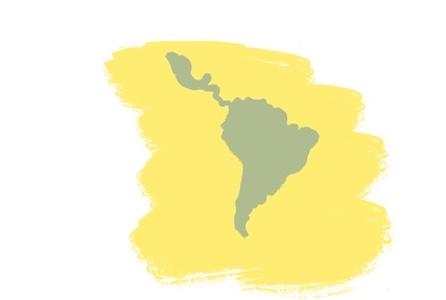 ALCAM: 2023, an Important Year for Latin American Music 
ALCAM, the Latin American alliance of music creators, reaches its 11th year of existence in the quest to consolidate its educational vocation, working with young musical creators from different regions of Latin America.  ALCAM also commissioned a study this year to help direct fundraising work in international organizations interested in supporting development projects for young artists in Latin America. 
All of this work comes at a time when ALCAM is organising, for the first time, CIAM's General Assembly in a city in South America – in this case, Rio de Janeiro in Brazil.
Since CIAM's General Assembly in 2018 was in Mexico City, 2023 is a very important year for Latin American music. 
In fact, after a drop in copyright revenue in Latin American countries during the pandemic, the numbers have started to grow again and, by the end of 2023, the expectation is for very favourable change, boosted by the extraordinary growth of digital music in the region, mainly in Mexico and Brazil. 
For example, in June this year, Spotify Global's Top 50 featured 30% Latin songs, dominating the top five spots.  There was also a great increase in the number of large international festivals and the resumption of the schedules of the main artists in Latin America, which greatly helped revenues recover.
After CIAM's General Assembly in Rio de Janeiro, which will be held on November 8th and 9th with several ALCAM board members participating, the Latin American alliance will be holding its annual meeting on November 10th, also in Rio, celebrating an auspicious moment for Latin American music.
Music Creator Groups provide submission on AI guidelines to Canadian government
Creator organisations, associations, guilds, and societies have been in constant dialogue with governments worldwide in response to the rapid rise of AI. A coordinated effort among music creator groups has been organized this year in order to protect the rights of music creators and authors as a variety of AI tools have emerged. This includes a July open letter to policy makers and a September joint statement on the draft AI act in the EU.
The Screen Composers Guild of Canada, Songwriters Association of Canada, and Société professionnelle des auteurs et des compositeurs du Québec have jointly submitted comments to the Canadian government's "Consultation on Canadian Guardrails for Generative AI – Code of Practice".
This submission mirrors ones in other countries,  that seek to ensure consent is obtained, credit provided, and compensation given to music creators for generative AI uses. This "Three Cs" approach ( Consent, Credit and Compensation), has also been championed in the US by the SCA, the SGA, and other MCNA member organizations.
It also calls out the use of terminology humanising technological processes, such as "learning" or "training", which are inaccurate and should be replaced when discussing generative AI in order to protect human creation. Details on this submission can be found here.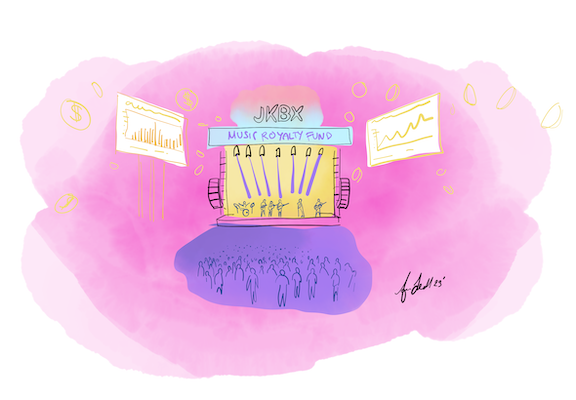 The Business of Sharing
If you are a music creator with some hits in your catalog or making a name for yourself in the market, this note will interest you.
You probably already know this, but if you have not noticed, music royalties have become a trend like Bitcoin once was (remember?).
However, contrary to the hype behind the great circus of cyber currencies, the interest that different investment funds are showing is based on cold statistics proving that music royalties are usually more resilient than the stock market, even in times of recession.
Investment funds such as the ICM Crescendo Music Royalty Fund insist that music royalties are one of the most stable assets in the market that can also generate profits over a period (70 years and more) that few companies in the world could assure their clients.
Therefore, it is not strange that today, a new market appears where royalties are the only stock, which will open its doors before the end of this year.
JKBX (Jukebox) will allow fans to buy shares of their favorite songs, at least those that make up the catalog they will offer initially.
Despite sounding absurd, industry experts are supporting JKBX as they see it to increase the value of creators' work..
The prices of these shares seek to seduce the ordinary citizen who, for example, could pay $28 for a share of "Halo" (famous song performed by Beyoncé).
The idea behind JKBX is not new.
However, it comes at a time when the entire industry sees record profits and concerts like Taylor Swift's are breaking box office records.
JKBX is not alone in this endeavor; Masterworks is having great success using this new business model, selling shares of masterpieces by some established painters and plastic artists.
It is too early to know if this alternative will resonate in a market that continues to rise. However, we would be wrong if we do not take note and learn from the audacity of JKBX.
Of course, I'm not inviting you to sell our catalogs, but who knows, maybe someday we could become our own market through collectives or the CMOs representing our work.
After all, who can measure the value of an artistic creation better than those who love your work?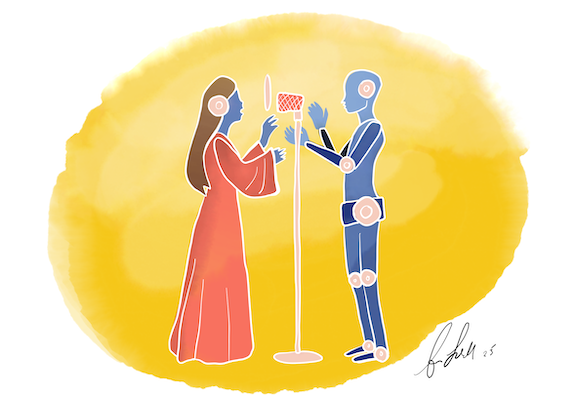 AI in Music: Creative Sparring Partner or Dulling Ghost?
Artificial Intelligence (AI) in the music industry has transitioned from a hot topic of debate to an integral part of our conversations about creation, innovation, and artistic expression. While AI continues to become an indispensable tool, it reminds us of early reservations towards platforms like Wikipedia, which evolved from being deemed unreliable to becoming a fundamental resource in research.
Recalling my days in my first band, the essence of musical growth for me was choosing to work with people more skilled than myself, ensuring perpetual learning and development in the art form. But the advent of AI poses a dichotomous scenario – where on one end, it promises an exploration into uncharted artistic territories, while on the other, it holds the power to exploit our creative laziness if we let it define our artistry. This not only applies to music but reflects current debates in academia about incorporating tools like ChatGPT into research and learning, striking a balance between leveraging technology and maintaining authentic human input.
An apt illustration of AI's potential in music is Holly Herndon's song "Frontier." Composed in tandem with her personal AI, Holly utilizes technology to not only compensate for her vocal limitations but to explore novel sounds and arrangements. This collaboration between human and AI exemplifies the potential of AI to not replace, but enhance, creative processes in music - a harmony of technology and creativity that could pave the way for new genres and expressions.
As we stand at the juncture where AI is intricately woven into our creative processes, like software allowing composers to layer instruments without physical musicians, it is imperative to embrace this tool while safeguarding our own intrinsic creative spark. Just like other technological advancements that have been assimilated into our creative and academic worlds, AI's role in music creation is destined to evolve. But it is upon us to ensure that it does not extinguish the human element, which remains irreplaceable in genuine artistic creation.