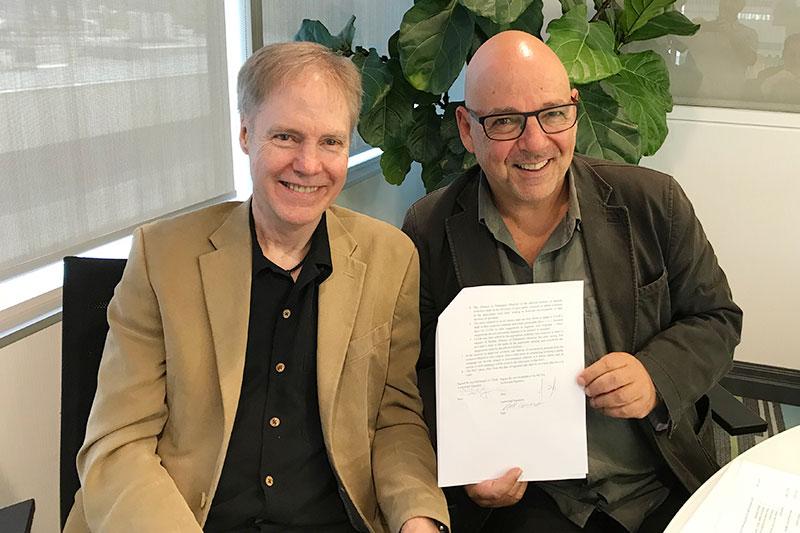 MCNA and CIAM sign Memorandum of Understanding to Build Further Cooperation for North American Music Creators
Music Creators North America (MCNA) and the International Council of Music Creators (CIAM) signed a Memorandum of Understanding (MoU) between the alliance and organisation.  The MOU promotes cooperation and international harmony among CIAM and its partner alliances. The signing comes on the heels of similar MoUs agreed upon between CIAM and continental partner alliances PACSA for Africa, APMA for Asia-Pacific and ALCAM for Latin America.
The MoU was signed by music creator, producer and Screen Composers Guild of Canada Board Chair Marvin Dolgay as well as songwriter and Songwriters Guild of America President Rick Carnes.
Speaking on the agreement's significance, Marvin Dolgay stated: "As digital technologies have become the mainstream distribution platforms for our works, and as territorial boundaries are becoming blurry, it is more important than ever to have a global forum representing the livelihoods of music creators. I am proud to stand with my fellow music creators at CIAM worldwide as we advocate for fair and transparent rights and business models within our global ecosystem. It has never been more relevant and important for music creators to unite with a global view. The world is now one territory, and we at Music Creators North America know we must speak for ourselves with a united global voice. CIAM is that voice."
MCNA is an independent and non-conflicted advocate and educator on behalf of the music creator community in North America. Based in Tennessee and Toronto, it is an alliance of independent North American songwriter and composer organisations including the Council of Music Creators, Screen Composers Guild of Canada, Songwriters Association of Canada, Society of Composers & Lyricists, Songwriters Guild of America and the Société Professionnelle des Auteurs et des Compositeurs du Québec. CIAM, established in 1966, is the global voice of some 500,000 professional music creators, uniting organizations on five continents. CIAM defends the professional environment for music creators, as well as promoting their cultural, economic and legal interests.
The MoU's goal is to establish moral and legal principles between the partner alliance and CIAM. This includes, among others:
Proactively coordinating activities and communications in CIAM's role as the unified global voice of music creators;

Advocating and supporting the legal and moral rights of music creators;

Promotion of the reputational and commercial interests of music creators and their musical works;

Promotion and advocacy for high quality, accurate data identifying musical works and initiatives to improve data quality and accuracy;

Supporting collective management organisations and promoting the equitable inclusion of music creators in their governance structure.