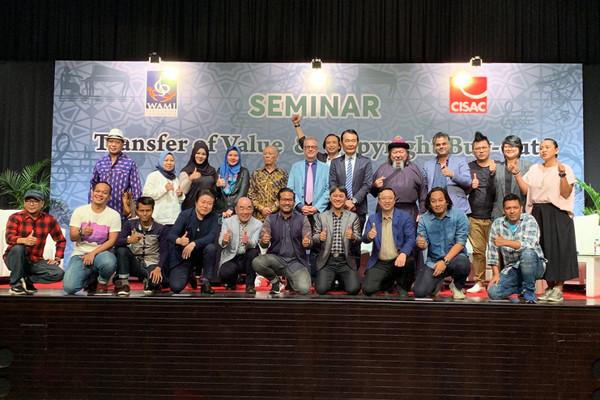 APMA issues Jakarta Statement supporting creators at General Assembly in Indonesia
The Asia-Pacific Music Alliance, a continental alliance of CIAM, held its second General Assembly on November 14th. Taking place during the CISAC and WAMI-organised Creators Seminar, the assembly allowed music creators to learn about the announced copyright buy-out study as well as to welcome new members from India (the 20th member of APMA) and Myanmar.
At the Creators Seminar, two panels treated pressing concerns of the creative community: transfer of value and copyright buy-out. MCAI Hon. General Secretary Ashish Rego was invited to join the transfer of value panel where he presented the current problems in India. With copyright buy-out, creators are being pressured into accepting lump-sum upfront payments for their work, particularly in audiovisual. It removes the possibility to receive remuneration if a creator's work becomes popular since future revenues have been signed away.
The assembly also learned about the 2018 CIAM annual congress in Mexico City, including progress on gender equity, a Fair Trade Music aggregator as well as a joint meeting between ALCAM and MCNA to boost cooperation among Latin artists across North and South America.
At the end of the seminar, the Jakarta Statement was released as a show of support for creators across all of Asia-Pacific. The statement is a collective effort by music creators to draw attention to the issue of copyright buy-out and its impact on the creative community. The complete statement can be read here.
Regarding the Jakarta Statement, CIAM President Eddie Schwartz said:
Music creators the world over face increasingly perilous times, and unethical business practices. The overwhelming pressure large media companies can exert on individual creators to give up all rights to their music, particularly when it comes to movies, TV shows and games, is an example of the unfair and exploitive practices that are destroying our ability to make a sustainable living from the use of our work.

CIAM welcomes APMA's Jakarta Statement, joins with our brother and sister creators in the Asia-Pacific region in decrying this coercive practice, and in doing all we can to bring it to an end."