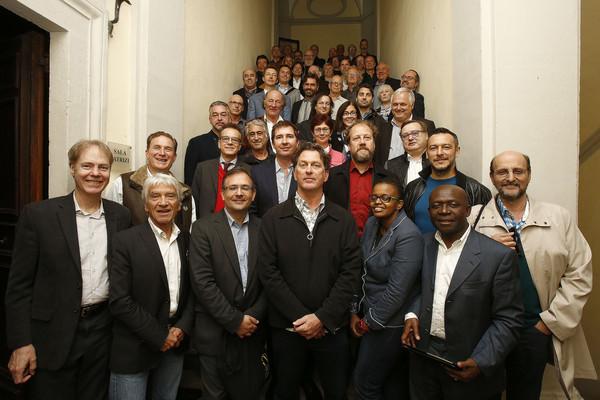 CIAM Congress Focuses on Fair Trade Music, Building a United Front for Creators
On 14-15 October, over 60 members of the International Council of Creators of Music (CIAM) met in Siena, Italy during the organisation's annual Congress to discuss the latest developments in music affecting creators.
Updates on copyright/authors' rights and collective management reform in Europe were presented  by Patrick Ager, secretary general of ECSA and Christophe Depreter, SABAM CEO & President of GESAC. Jean-Noël Tronc, Director General of SACEM explained the need for the whole creative community to join forces and identify common goals. Keynotes were followed by a roundtable including SIAE President Filippo Sugar. Speakers agreed on the need to remain vigilant as the full extent of the changes engineered by the European Commission have yet to be unveiled, and "safe harbor" rules remain a critical issue.
Professor Paolo Marzano, President of the Italian Copyright Committee, addressed the congress on behalf of Italian Culture Minister Paolo Franceschini.  He explained the Italian anti-piracy policy, based on a parallel "persuasion" approach to small users and strict law enforcement measures geared toward big piracy players. CIAM members welcomed the recent progresses of CIS-Next and were also informed about new metadata tools such as Auddly (Sweden) and TGiT (Canada). Professor Lucie Guibault (University of Amsterdam) presented a study commissioned by the EUC on remuneration of creators and performers, and IP consultant Amanda Harcourt explained the complexities of the relationship between creators and performers in different fields of the digital market.
The congress was the occasion to inform CIAM members on the Fair Trade Music initiative, started at CIAM's Annual Congress in 2013 in Costa Rica. Eddie Schwartz, co-Chair of Music Creators North America (MCNA), informed members about the creation of a FTMI certification body, currently underway. The new body would ensure that digital platforms that comply with the Fair Trade Music objectives receive appropriate labeling.
During the two-day meeting, CIAM members welcomed representatives from performing artists organisations — Paul Pacifico, President of the International Artist Organisation and CEO of the UK Featured Artists Coalition (FAC) and Suzanne Combo, Executive Director of France's Guilde des Artistes de la Musique (GAM) to discuss common goals between authors/composers and performers.
Italian composer Lorenzo Ferrero was unanimously re-elected President of CIAM for a two-year mandate. He has held this position previously in 2011 and 2013.
CIAM Executive Committee was also up for renewal. New elected members are Alejandro Guarello (SCD-Chile) and Shunichi Tokura (JASRAC – Japan) who join Susi Hyldgaard (KODA – Denmark), Simon Darlow (PRS for Music – UK), Jean Marie Moreau (SACEM – France), Jörg Evers (GEMA – Germany) and Stan Meissner (SOCAN – Canada) all re-elected. In addition, Antun Tomislav Saban (HDS – Croatia) will serve for a one-year term and will be replaced after a year by Marek Hojda (ZAIKS – Poland).
Partner Alliances appointed Juca Novaes (Brazil) for ALCAM (Latin America), while ECSA (Europe) confirmed Alfons Karabuda, MCNA (US and Canada) Eddie Schwartz and PACSA (Africa) Sam MBende.