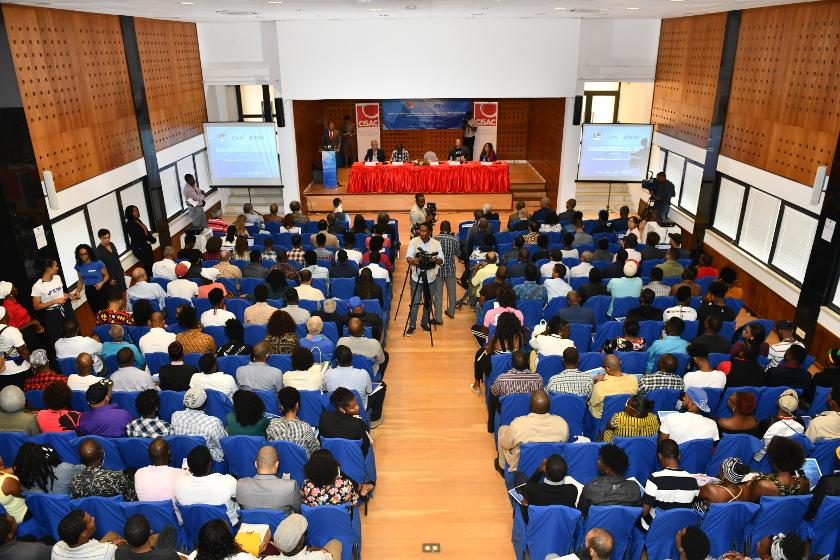 Over 300 Cabo Verdean creators come out for CIAM, CISAC and SCM copyright and music industry training sessions
A serious interest in copyright and how it is crucial to the life of songwriters and artists attracted 320 creators to two training sessions across Cabo Verde. These CIAM, CISAC and Cape Verdean Music Society (SCM) training sessions were a resounding success, drawing more participants than expected and leading to standing room only events. Musician and SCM CEO Solange Cesarovna expressed her excitement regarding the excellent turn-out in Mindelo, about both that session and the previous one in Praia, the capital city on January 24th. 
Cabo Verde is a country off the coast of Africa with a rich history of music culture, exemplified by the legendary artist Cesária Évora. In the country, YouTube has become a leading way to consume music. With the "transfer of value" devastating  revenues from music in developing countries, the local music community came out to learn from their fellow music creators on the CIAM Exco, among others, about creator's rights, copyright and how to protect and advocate for fair and sustainable remuneration.
Composer and SCM CEO Solange Cesarovna opens one of the training sessions in Cabo Verde. Photo ©: Eneias Rodrigues
The session involved CIAM's Executive Committee members as well as the African alliance PACSA and its African Copyright Ambassadors. Brazilian songwriter Juca Novaes, who also represents the Latin American CIAM alliance ALCAM, welcomed speakers, detailed the alliance's efforts in Brazil and across Latin America as well as fielded questions from the Lusophone creators. PACSA President Sam Mbende also detailed the African CIAM alliance while letting African Copyright Ambassadors Samira of Algeria and Samuel Kamanzi of Rwanda share their experiences and need for proper author's rights protections.
CIAM, CISAC and SCM bring a training session to creators in the port city of Mindelo in Cabo Verde. Photo ©: Miguel Angel