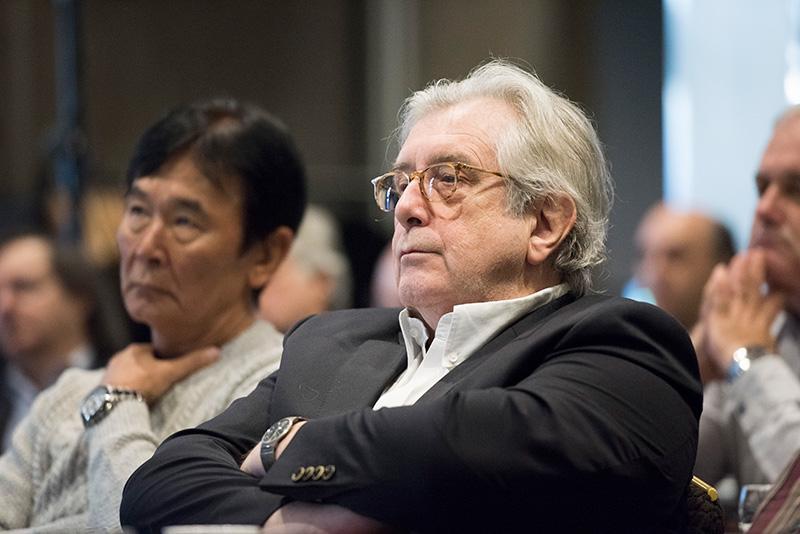 Frank Dostal – In Memoriam
It was with great regret that we learned of the unexpected passing of Frank Dostal last week at the age of 71. As well as being an internationally acclaimed lyricist and producer, Mr. Dostal  was also the deputy chairman of GEMA's supervisory board and a lifelong supporter of musical authors rights.
Born in Flensburg and raised in Hamburg, Mr. Dostal  first came to the public's attention as a vocalist, bassist and organ player with a number of 1960's German groups including The Rattles and Wonderland. In the 1970's he focused on writing lyrics and worked with Nana Mouskouri, the Goombay Dance Band and Baccara for whom he co-wrote "Yes Sir, I Can Boogie", an international hit that is still one of the best-selling singles of all time with an estimated total of 18 million units.
Tributes have been paid for Frank Dostal  from music creators all over the world."Frank's sudden and totally unexpected death has left me devastated and deeply shocked," said Jörg Evers, composer and CIAM executive committee member. "He was such a wonderful person and a best friend, with such a rare true, warm- and open-hearted, witty and courageous character; which is very seldom to find on this planet. He was always 'Frankly'-speaking. If you had him at your side it was the best that could happen to you. The music community has lost one of its most ardent protagonists."
"This is sad news indeed. Frank was special. And a dear friend," said Lorenzo Ferrero, composer and president of CIAM.
"He fought our cause for many years and will be greatly missed," said Simon Darlow, composer and CIAM co-vice president.
"So deeply sorry to hear this very sad news. I always enjoyed his company and thoughts when we spoke at various events in recent years. I know he will be missed," said Eddie Schwartz, songwriter and CIAM co-vice president.
"Although we only met twice, we had some interesting conversations about GEMA, YouTube and publishers. He made a deep impact on me; a true rebel with a cause!" said Arriën Molema, songwriter, vice-chair BAM! and board member of Buma/Stemra.
"Absolutely shocked by this very sad news. He was a fantastic friend with a fabulous and intelligent sense of humour," said Iván García-Pelayo, songwriter and CIAM executive committee observer.
"Very sad news. I admired Frank so much as the fighter for author's law. He was the guy, who has not let Google abuse us creators. We talked a lot last time in London about GEMA's victory with YouTube. It won't be easy to replace him," said Marek Hojda, songwriter and CIAM executive committee member.
"It is always a sad news to know you have lost a wonderful musician, songwriter, with whom you breathed the same air in the 60s and the70s," said Shunichi Tokura, composer and CIAM executive committee member.
"A very good guy who will be missed by the entire community," Charles Sanders, legal and legislative advisor to Music Creators North America.
"Frank was a warm, curious intelligent humble and witty man, truly passionate about authors rights and so human" said Silvina Munich, CISAC repertoires & creators relations director.
"I'm very saddened by this. Frank's sudden passing is certainly a great loss to us all," said Stan Meissner, songwriter and CIAM executive committee member.
"Sad news indeed. We last spoke during a shared taxi ride from the CIAM congress in London ... an epic moment; he had a great sense of humour," said Sonia Mutesi Hakuziyaremye, Pan-African Composers' and Songwriters' Association.
"Frank was a really good fellow, a smart guy with a big sense of humour and I am sure we'll miss him strongly," said Jean-Marie Moreau, songwriter and CIAM executive committee member.
"How sad, and way too early too. He was such a great person," said Susi Hylgaard, songwriter and CIAM executive committee member.
"I have the utmost respect for Frank. Intelligent with a warm heart and brave enough to always speak his mind. Always with the intention of helping the author community as a whole rather than himself. He will truly be missed," said Alfons Karabuda, composer and president of the European Composer and Songwriter Alliance.[us_single_image image="841" size="full"]Above: (l-r) Christophe Depreter (CEO of SABAM), Frank Dostal and Jörg Evers – © 2017 Jason Dodd
Header Image: Frank Dostal (right) with Shunichi Tokura – © 2017 Jason Dodd