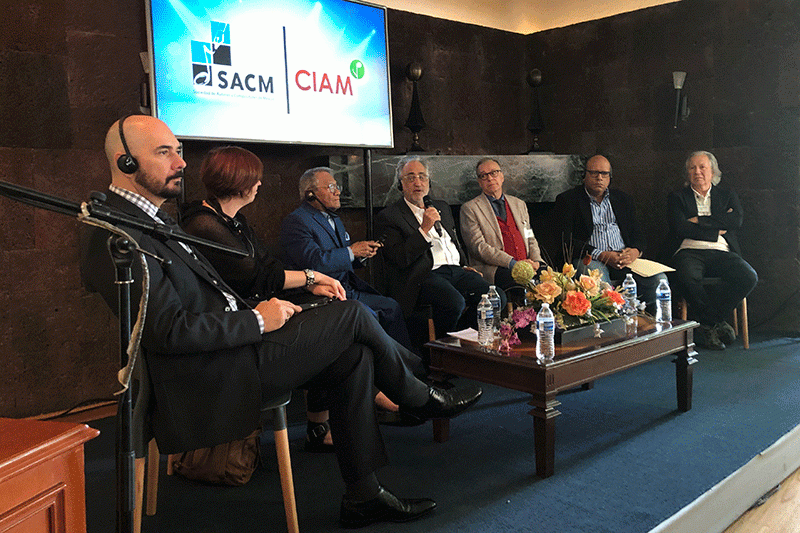 CIAM joins SACM in calling for private copying levies in Mexico
Global music creator organisation CIAM progresses on key issues for creators at annual congress
November 6th, 2018 – Today, CIAM threw its weight behind calls by Mexico authors' rights society SACM in highlighting the importance of private copying remuneration to local media and policy makers at a press conference on November 6th.
The event took place while the International Council of Music Creators (CIAM) held its annual congress, gathering together songwriters and composers from throughout the world, in Mexico City on November 5th and 6th.
Private copying is a vital source of remuneration for creators, providing an essential component in a music creator's livelihood and economic stability in today's digital age. While legislation in Mexico recognises private copying as an exception to copyright, there is no compensating levy in place.
Composer, songwriter and CIAM President underscored the council's support for SACM's efforts: "It is our hope at CIAM that, together with SACM, we can persuade local lawmakers to recognise the importance of remunerating creators."
CISAC (The International Confederation of Societies of Authors and Composers) is working with societies like SACM to advocate proper collection mechanisms. In 2017, the confederation published its Private Copying Global Study examining private copying systems in 191 countries on 5 continents. CIAM is one of three creators' councils of CISAC.
CIAM was in Mexico City for its annual congress, which brings together composers and songwriters to address key issues concerning music creators globally as well as on a regional level. Progress was made on addressing establishing greater gender balance and diversity across the music industry, increasing engagement of the next generations of music creators in advocating for their rights and protections as well as balancing sensitivity to local cultural diversity and differing political realities, while being a global organisation. CIAM also worked towards enhancing cooperation between music creators and music publishers through a Worldwide Code of Conduct.
In thanking host society SACM, Eddie Schwartz said: "CIAM and CISAC expresses their gratitude to their colleagues at SACM for their generous hosting of the annual meeting of the world's composers and songwriters. SACM's hospitality made it possible for music creators from all corners of the globe to share their experiences, discuss legal, moral and financial issues as well as establish a common agenda to address these challenges."
Follow CIAM on social media for global music creator developments: Facebook, Instagram and Twitter.Photo © CISAC 2018