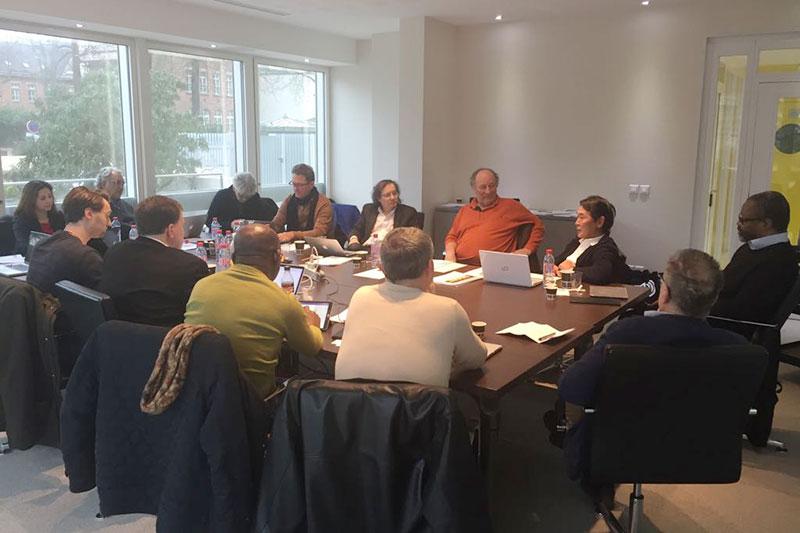 CIAM Executive Committee Elects New Vice-Presidents and Sets Strategic Direction for 2018
At its first executive committee meeting chaired by new president, Eddie Schwartz, CIAM has set out its strategic objectives for the coming year. During the two-day meeting held at the offices of CISAC in Paris, Mr. Schwartz also announced election of two vice-presidents and the formation of five new working groups, all aimed at further strengthening the organisation's focus on supporting music creators' rights internationally.
The executive committee was joined at the meeting by partner alliance representatives for Africa, Asia-Pacific and Latin America – Sam Mbende (PACSA), Shunichi Tokura (APMA) and Juca Novaes (ALCAM); and by CISAC's manager of creator relations, Samia Slimani. Mr. Schwartz represented CIAM's North American partner, MCNA, with Alfons Karabuda providing commentary for its European permanent observer, ECSA. CIAM's honourary president, Lorenzo Fererro, joined part of the discussion on strategy.
Also attending was Jean Noel Tronc, director general of the French Society of Authors, Composers and Publishers of Music (SACEM) who shared the vision and strategy of his organisation regarding the promotion of creative cultural industries in the continent and worldwide.
Strategic Direction
The executive committee identified a number of key strategy elements on which CIAM will focus in 2018 and beyond. Firstly, was the ongoing need for the organisation to provide a globally unified voice for music creators. As digital music distribution continues to gather pace, a truly international perspective is essential. CIAM's strategy of supporting and empowering its four partner alliances in Africa (PACSA), Asia-Pacific (APMA), Latin America (ALCAM) and North America (MCNA) and working in closer collaboration with the European permanent observer (ECSA) is an essential component for success.
CIAM also aims to educate its network of music creators. This will incorporate the sharing of knowledge and best practice from around the world as well as the provision of specific professional training for creators to help them develop their craft and better understand their rights.
Finally, the fundamental strategy of the organisation was restated in the need to place music creators at the heart of the lobbying strategy. They are the legitimate group leader to speak out about the challenges of bringing new work to the public and their voice needs to be at the centre of any debate.
Working Groups
In support of these strategies, the CIAM executive committee launched five new working groups, each aimed at developing the organisation and promoting the rights of creators in the following crucial areas.[vc_tta_accordion c_icon="plus"][vc_tta_section active="1" icon="fas|database" title="Metadata and IT" tab_id="1516296525762-33feca1a-e4db"]This group will follow the development of these crucial music identifiers and provide information and updates to the CIAM community and help them position themselves on these items.[/vc_tta_section][vc_tta_section icon="fas|university" title="Governance" tab_id="1516296603143-cc6f4d2e-6388"]This group will revisit and improve CIAM's governance structure via a review of its internal rules, voting procedures and codes of conduct.[/vc_tta_section][vc_tta_section icon="fas|female" title="Women@CIAM" tab_id="1516296613404-1125aefe-cfba"]This group is tasked with reducing the gender imbalance and empowering female music creators.[/vc_tta_section][vc_tta_section icon="fas|graduation-cap" title="Training Programmes " tab_id="1516296612415-b4f59e12-976a"]This group will investigate requirements and provide professional training for creators via songwriting workshop and seminars.[/vc_tta_section][vc_tta_section icon="fas|chart-line" title="Development" tab_id="1516296610190-c0630695-d3f9"]This group is tasked with investigating fundraising to diversify the resourcing for CIAM to enable the organisation to achieve more.[/vc_tta_section][/vc_tta_accordion]
---
Vice-President Elections
The new vice-presidents are Jörg Evers and Ivan Garcia Pelayo; both long-standing members of the CIAM executive committee and bring extensive expertise to the roles.
---
[us_single_image image="187" size="full"]Jörg Evers is a German composer, arranger and producer, and a graduate of the Richard Strauss Conservatory of Music in Munich. In addition to recording and touring with numerous European rock bands, he has won several gold and platinum awards, two ASCAP awards and the "Best Composer Award" at the Tokyo Music Festival. Since 2000, he has been on the supervisory board of the German performing rights organisation GEMA.
---
[us_single_image image="1054" size="full"]Ivan Garcia Pelayo is a Spanish songwriter and author with a long track record of leadership in local and international authors rights organisations. He is an observer of the Latin American Alliance of Composers and Authors of Music (ALCAM), holds the position of international affairs coordinator at the Spanish authors' society SGAE, and is a board member of Fair Trade Music International, the non-profit organisation that coordinates the Fair Trade Music campaign.
---
The event closed with a networking event at SACEM's Paris headquarters at the invitation of its director general, Mr. Tronc. The date and venue of CIAM's next executive committee meeting were set and it will take place on 2/3 June 2018 in Warsaw, Poland to coincide with CISAC's general assembly.[us_gallery ids="1131,1129,1130" columns="3" indents="1" img_size="full"]
---
Photos © CISAC 2018