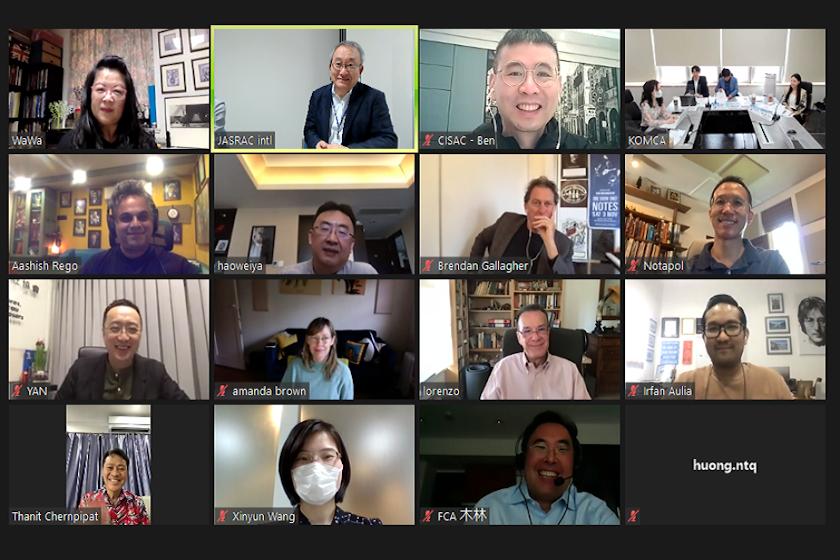 Asia-Pacific Music Alliance General Assembly Board and Chair Elected
The alliance representing music creators from across Asia-Pacific, the Asia-Pacific Music Alliance (APMA), held its General Assembly virtually on May 27th. APMA elected its 10 Executive Committee members for the 2021-2023 term, including two female members Amanda Brown and Chen Yu Zen.
Yoon Myung-Sun, composer and former KOMCA Chair, will continue to be Acting Chair until November 2021. In November, the Executive Committee will appoint a Chair and Vice Chair(s).
The APMA Executive Committee members are:
Yoon Myung-Sun, composer and former KOMCA Chairman (Korea)
Irfan Aulia, songwriter, WAMI Supervisory Board Chair, LMKN Commissioner (Indonesia)
Rico Rene Blanco, songwriter, former FILSCAP Board President (Philippines)
Thanit Chernpipat, composer, Central Conservatory of Music Professor (China)
Toshiyuki Watanabe, composer, JASRAC Board Member (Japan)
Amanda Brown, composer, APRA Board Member (Australia)
Ung Kuoc lang Yan, composer, MACA CEO (Macau)
Chen Yu Zen (Wawa), songwriter, MCU Chair (Taiwan)
Aashish Rego, composer, MCAI Honorary General Secretary (India)
APMA, a CIAM regional partner alliance, now represents members from 21 countries and regions with the latest participation from Nepal. The alliance works to identify and find solutions to issues faced by the region's music creators, including copyright buyouts, copyright protection term extension, the lack of private copying remuneration systems, the transfer of value, and the absence of CMOs in certain countries.