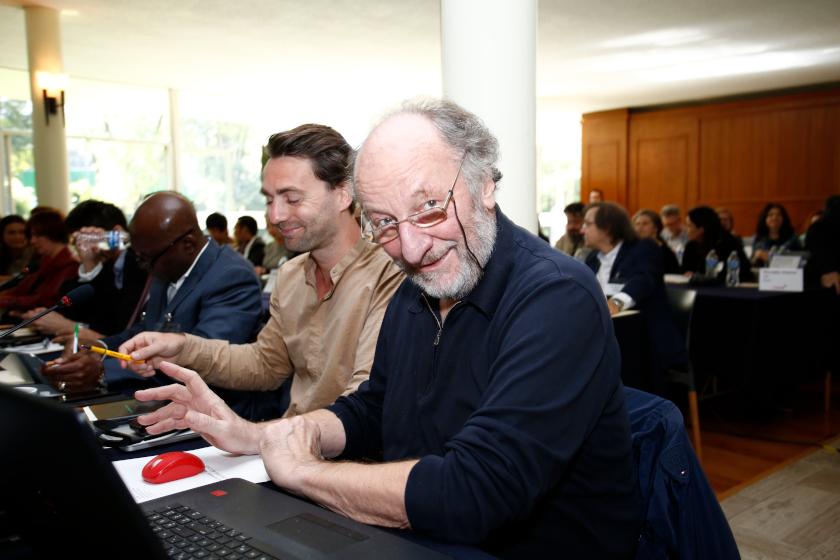 In memoriam: Jörg Evers 1950-2023
Over CIAM's more than half century of education and advocacy, our global creative community has benefited enormously from the knowledge and experience of caring music creators from around the world. And none has contributed more, or been more dedicated and passionate in advocating on behalf of music creators than Jörg Evers. 
We think there is no more fitting way to honor Jörg than to share the comments his friends, colleagues and fellow music creators have expressed about this remarkable person since hearing of his passing on February 12.
From Solange Cesarovna, singer, songwriter, President of SCM (Cabo Verde)
I am devastated by such sad news. Words fail me to convey the enormous loss that Jorg means to the creative and copyright sector worldwide and to our CIAM family. It's unbelievable that Jorg left us so suddenly. Less than two weeks ago we were all together at our online CIAM EXCO and we didn't even know that we were having the privilege of saying goodbye to this great man, friend and unconditional defender of the copyright of music creators.

What a great sadness.

Jorg will live on in our memories and hearts forever. 
From Brendan Gallagher, Australian Singer Songwriter, former CIAM Exco member and APRA Director (Australia)
Jörg's life force seemed undimmable. Who else could wear a Missoni jacket and a Kukuxumusu T-shirt while expounding on the virtues of 24 hour ISWC registrations? So sad, he was knowledgeable, generous, funny, a good friend, and a lion on behalf of the writer community.
From Lorenzo Ferrero, composer and Honourary President of CIAM (Italy)
A great friend is gone.

Friend of mine, friend of all of us, friend of creators, friend of justice in any field.

Irreplaceable.
From Crispin Hunt, songwriter and producer, former Chair of the Ivors Academy (UK)
Jorg was an inspiration, a role model and a true pioneer in the fight for justice for creators and a great friend and colleague to us all.  
From Greg Johnston,  MCNA Co-Chair (Canada), songwriter, producer, composer, and musician
What terrible news. I am deeply saddened by this. He was a wonderful man, and our community will deeply miss him.
From Stan Meissner, CIAM Executive Committee member, SOCAN Board member songwriter, composer and recording artist (Canada)
Jorg was so committed and dedicated to our rights, creators worldwide may feel this loss even if they aren't consciously aware.
From Arriën Molema, musician, songwriter, BUMA-STEMRA board member and CIAM Vice President (Netherlands)
Very sad news indeed, he was a great guy: humourful, sharp as a knife with regards to authors rights, and full of interesting stories. 

We'll miss him dearly.
From Facundo Saravia, SADAIC Director, songwriter and CIAM Executive Committee member (Argentina)
Jorg was a really a very happy man, lovable, also very capable in the universe of creating and defending our rights, I am very sorry for his loss, I will always remember him.
From Helienne Lindvall, President of ECSA, songwriter, musician (Sweden)
Jorg was a really good man, so passionate about creators' rights and with a great sense of humour. Such sad news...   
From Eddie Schwartz, CIAM President, songwriter (USA)
Jorg was a tireless defender of the rights of music creators, and through his years of international activities and leadership at CIAM, and board activities at GEMA, was known the world over for his dedication to our community.

He will be deeply missed by all of us. 
Learn about Jörg Evers, the multiple award-winning musician, composer, lyricist, arranger, guitarist and music producer here.