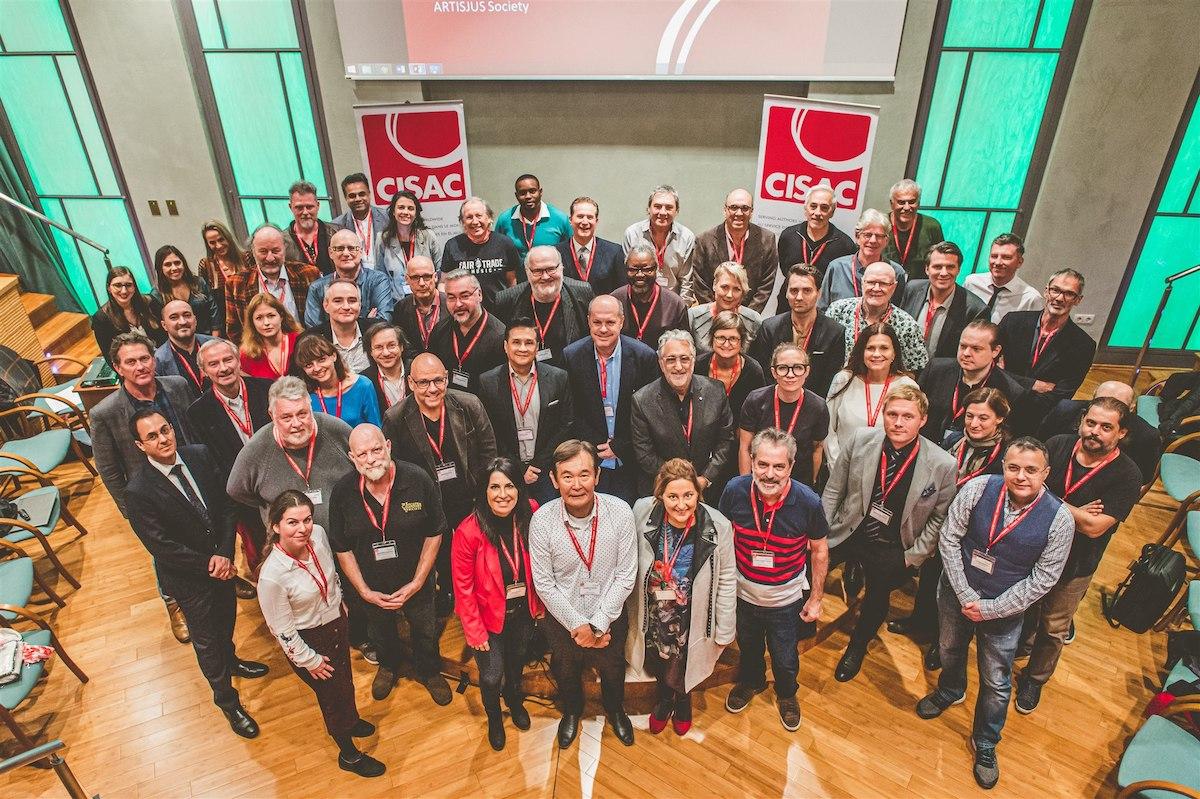 CIAM dives deep into buyouts and how to build better and more equitable future for music creators at General Assembly in Budapest 
New  Executive Committee  improves gender equity and diversity as Eddie Schwartz re-elected as President
The International Council of Music Creators (CIAM), the global voice of songwriters and composers, brought leaders from the global creator community to Budapest for the CIAM General Assembly on October 30th  and 31st.  
Hosted by  Artijsus, this year's General Assembly put the spotlight on the effects of the rising practice of copyright buyouts. 
Buyouts, the selling of all rights to a piece of music in exchange for an upfront lump sum, emerged in the United States before spreading to Latin America, Asia, and recently into Europe. It results in the loss to the composer of all rights to their music used in movies and TV shows streamed on video on-demand platforms. What has the response been from music creators? How do on-demand platforms work with creators? The CIAM General Assembly was able to learn directly from Carolyn Javier of Netflix during a presentation before a Q&A was moderated by Screen Composers & Lyricists President Ashley Irwin.  
Artisjus Director General Andras Szinger highlights issues in Hungary for music creators while calling for support to improve the country's situation. Photo ©: CISAC
Hungarian society Artisjus represents music creators in the country. By hosting, the society drew the world's attention to the country and current problems regarding public performance tariffs. Artisjus Director General Andras Szinger spoke to the issue, calling for support for increasing public performance tariffs at the rate of inflation in Hungary. The CIAM General Assembly unanimously backed a resolution in support of this increase in creator remuneration.
Delivering the keynote, UBC CEO and CISAC Board Chair Marcelo Castello Branco stated that creators are the engine in the collective management system, and the driving force behind the adoption of the EU Copyright Directive that CISAC hopes to spread to other regions of the world. Castello Branco encouraged creators to continue to stand up for their rights, especially to work for fair remuneration by rebalancing the transfer of value. 
UBC CEO and CISAC Board Chair Marcelo Castello Branco encourages creators to continue standing up for their rights. Photo ©: CISAC
Underlining CISAC's commitment to CIAM and their combined efforts and opportunities for lobbying for change, CISAC Director General Gadi  Oron  detailed how CISAC and CIAM actively championed for the adoption of the EU Copyright Directive. CISAC continues to campaign for private copying levies, and is upgrading the ISWC music identifier system. A buyout study was commissioned by CISAC to examine how to ensure that the legal interests of creators are protected. Oron also detailed CISAC's efforts focussed on gender equity, which CIAM is also working to improve, through its  Women@CISAC  programme.
CISAC Director General Gadi Oron details the Confederation's priorities and efforts to support creators worldwide. Photo ©: CISAC
Often, music creators in one region finds common ground in another region of the world. This was one of the main points elaborated on by Rick Carnes and Marvin Dolgay, co-chairs of Music Creators North America (MCNA). In Asia-Pacific, Asia-Pacific Music Alliance (APMA) Chair Shunichi Tokura emphasized that this region's main concern has become buyouts, which are now a serious issue. 
For Africa, songwriter and SCM President Solange Cesarovna and PACSA President Sam Mbende detailed the situation of its music creators before calling for further action for music creators on the continent, including improving private copying and cooperation with governments. 
Creators in Latin America have been able to take part in numerous training and educational programmes designed to help young creators navigate their career. ALCAM President Alejandro  Guarello  also detailed efforts to improve communications among composers in the region.  
In Eastern Europe, creators face several unique challenges and opportunities, which CISAC Regional Director for Europe Mitko Chatalbashev addressed. Ukranian composer  Valerii  Kharchyshy n reinforced this presentation by calling for a CIAM resolution in support of the CISAC approved collective management organisation in Ukraine.  
Additional panels focused on the global activities of BIEM, the international organisation representing mechanical rights societies, regarding collecting mechanical royalties and another discussion on strengthening relations between music creators and music publishers. 
The General Assembly re-elected composer and songwriter Eddie Schwartz as CIAM President. CIAM also elected a new Executive Committee comprised of:  
The newly elected CIAM Executive Committee with re-elected President Eddie Schwartz. Photo ©: CISAC
Founded in 1966 to protect the rights and assert the cultural aspirations of music creators, CIAM is the music creators' council of the International Confederation of Societies of Authors and Composers (CISAC). CISAC is the world's leading network of author's societies.