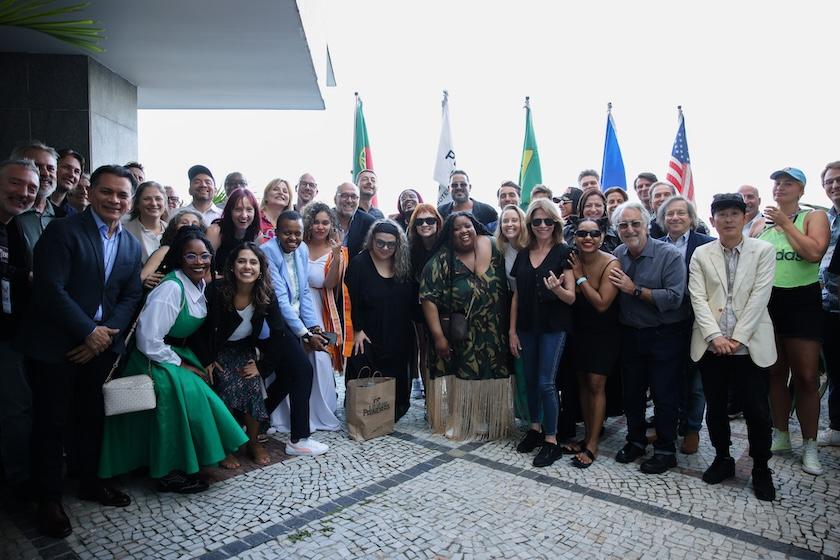 Cristiano Machado
Creators unite over AI, gender equity, and sectorial support for CIAM General Assembly in Brazil
View additional photos from the 2023 CIAM General Assembly here.
Hosted by Latin American partner alliance ALCAM, and Brazilian authors' societies UBC and ABRAMUS, the International Council of Music Creators (CIAM) held its first in-person General Assembly in four years in Rio de Janeiro, Brazil on November 8th and 9th. The assembly spotlighted urgent, emerging challenges and opportunities that artificial intelligence (AI) brings to creators and authors' rights. It drew attention to Latin America, other regional activities on behalf of music creators around the globe, the US-based Mechanical Licensing Collective, challenges women face in music, the first Fair Trade Music International Awards, as well as CIAM's first International Women's Songwriting Camp.
CIAM President Eddie Schwartz opened by highlighting that this was CIAM's first in-person assembly since Budapest in 2019. He underscored that the purpose of the GA was to bring together regional partner alliances to shed light on situations in each part of the world as well as open discussions regarding how to improve the situation for music creators worldwide.
ALCAM President, and CIAM VP Juca Novaes delivered welcoming remarks. He highlighted the presence of Latin America in the current ExCo as well as the growth of Latin America music revenues. The 2023 CISAC Global Collections Report showed that Latin America grew the most in 2022 with music collections increasing 66.1%, supported primarily by digital and live performances. Novaes pointed out that unfair remuneration and low collections remain a challenge in the region and worldwide, calling for creators to stand together for their rights.
ABRAMUS CEO Roberto Corrêa de Mello welcomed creators to "our musical country" with its "different accents, different cultures, different rhythms and different music". Brazil has some 600,000 musicians that created over 20 million works. Mandatory use of ISWC has allowed the tracking of more than 22 million works and the proper identification and distribution of royalties to music creators, emphasizing the importance of having works in a database linked to the ISWC. He also pointed out that 74% of music played in Brazil is Brazilian music.
UBC CEO and CISAC Board Chair Marcelo Castello-Branco welcomed the GA to his city of Rio de Janeiro, warmly drawing attention to the renown Brazilian artists attending and the vibrant culture that would unfold for CIAM and global creators attending the assembly.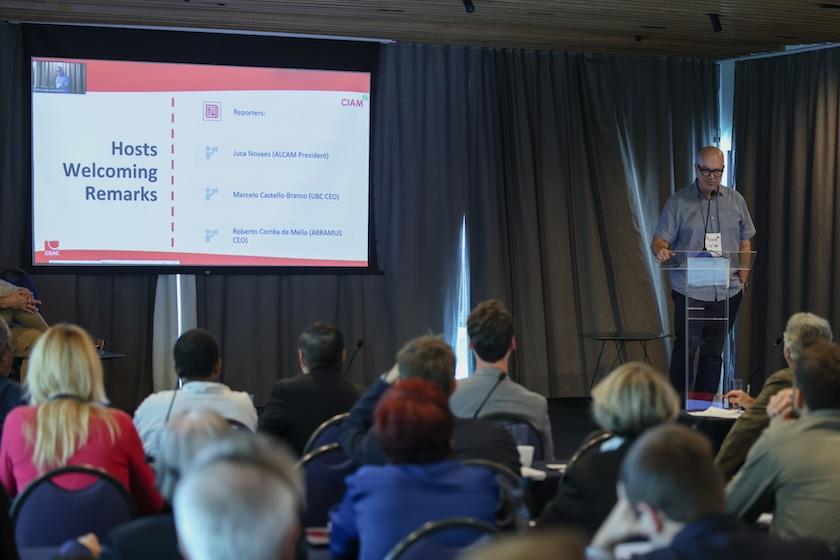 Marcelo Castello-Branco, PDG de l'UBC et président du conseil d'administration de la CISAC, accueille le CIAM à Rio de Janeiro.
Cristiano Machado
CISAC Director of Presidents and Creators Anna Neale spoke about creator income, and the challenges of the low remuneration of creators' works. Neale pointed out that the system is unstainable for creators and future talent since a million streams generates so little revenue for creators. "We have reached a new paradigm where culture is under threat", particularly from AI. CIAM is important as it speaks with one global, unified voice, and serves to "empower the creative community".
CISAC Director General Gadi Oron updated the GA on the current state of the market for creators. Oron detailed the results of the 2023 Global Collections Report, which showed a record-breaking year with societies collecting over €12 billion for creators with a year-on-year growth rate of 26.7% in 2022. Digital is now the #1 source of income. AI has become one of CISAC's key projects, particularly to provide creative and proactive solutions as well as supporting societies in how they respond to AI. CISAC has drafted guidelines on treating text and data mining, and is raising the issue of AI at WIPO and UNESCO. Finally, Oron drew attention to other CISAC activities including CIS-Net, ISWC, society development, buy outs, and the CLIP (Creators Learn Intellectual Property) project of WIPO for Creators which launches on November 17th.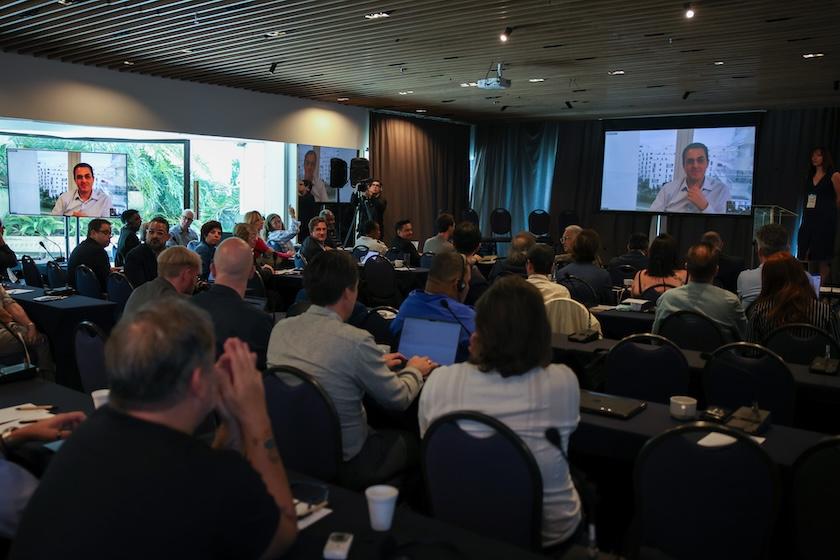 Le directeur général de la CISAC, Gadi Oron, décrit les principales priorités de la Confédération au nom des créateurs du monde entier.
Cristiano Machado
Vanderbilt University Law School Professor Daniel Gervais, PhD, keynoted with "AI in Full: Where the Threat Ends and the Opportunities Begins". The keynote provided a broad look at what AI is and what it does, copyright-related aspects of generative AI, and a way forward. Dr. Gervais notably mentioned that new AI works will only be able to repeat the past, as opposed to human authors who can innovate. The use of the technology won't be stopped, but can be regulated. "We have to find a way to keep human creators at the centre," stated Dr. Gervais. He also said, "What the music industry has that tech doesn't is you-the creators."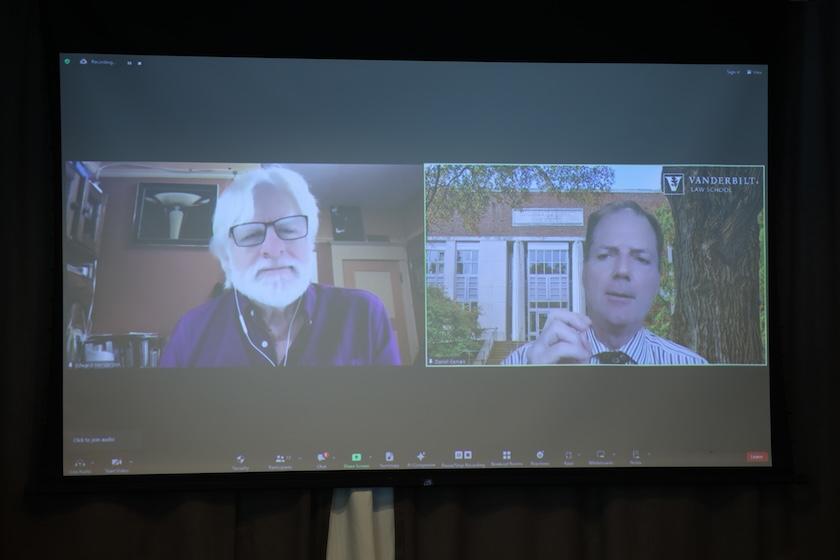 Daniel Gervais, professeur à la faculté de droit de l'université Vanderbilt, présente une vue d'ensemble de l'IA en rapport avec les créateurs et le droit d'auteur.
Cristiano Machado
The Mechanical Licensing Collective (MLC) CEO Kris Ahrend described the MLC's goal to help ensure creators are being paid, and explained the organizations background, metrics, and key initiatives. The MLC was established to identify rights holders, license songs, and pay mechanical royalties from DSPs. The MLC has distributed $1.645 billion in royalties in less than three years with greater transparency, centralised processes, and more rights holders being paid.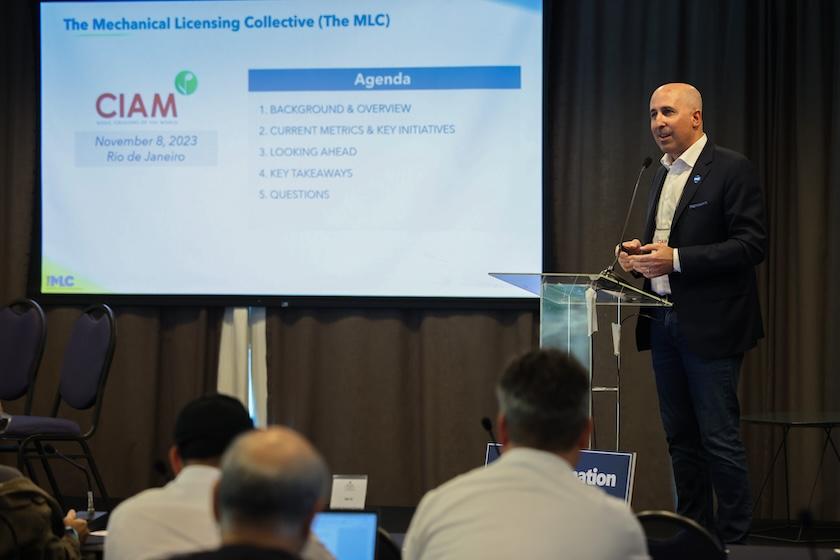 Le PDG du MLC, Kris Ahrend, parle de son travail d'identification et de distribution des redevances aux créateurs.
Cristiano Machado
This year's panels included examining Latin American music as a cultural force; the state of collective management in Latin America; difficulties and the way forward in Africa; and the challenging business of music for women.
Moderated by CISAC Regional Director Rafael Fariñas, the panel "Latin American Music as a Global Cultural Force" including Brazilian composer Felipe Radicetti, Brazilian author Roberto Frejat, SADAIC's Facundo Saravia, SGACEDOM's Valerio de León, and CISAC Vice President Arturo Márquez delved into how music in various countries have raised the region into a global powerhouse. The contributions of music genres (e.g., merengue in the Dominican Republic) and traditions, as well as how technology enabled people to discover new music around the world were discussed, which is a very positive contribution to the region's significant growth.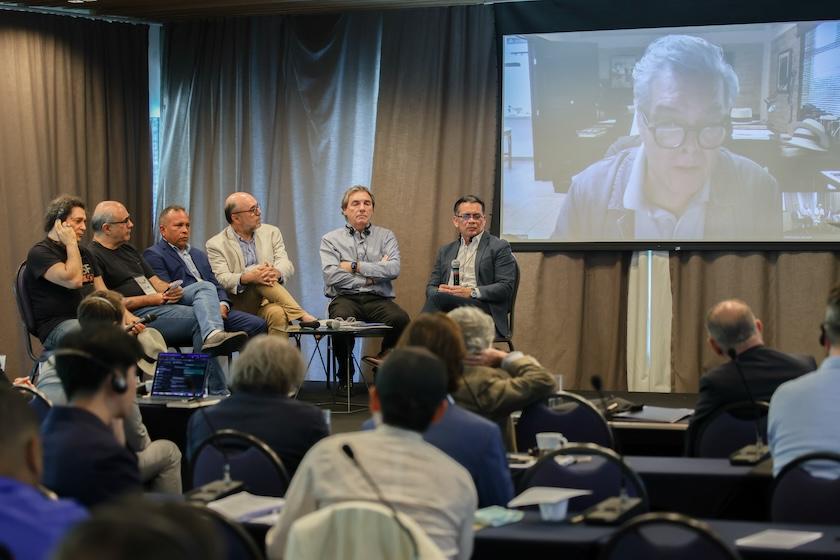 Arturo Márquez, vice-président de la CISAC, participe au panel sur "La musique latino-américaine en tant que force culturelle mondiale".
Cristiano Machado
Society CEOs, including UBC's Marcelo Castello-Branco, ABRAMUS' Roberto Corrêa de Mello, SACM's Roberto Cantoral Zucchi, and SADAIC's Guillermo Ocampo, participated in a panel on the current state of collective management in Latin America, moderated by CIAM Honorary President Lorenzo Ferrero. The CEOs emphasized the importance of ensuring the welfare of their author members, including through healthcare systems, as a strength in Latin American societies. The unique aspect of some Latin American countries managing both neighbouring and authors' rights has led to a unity in representing creators. Also cited was LatinAutor, which provides licenses for DSPs through a single model and single rate among societies, and has succeed in providing a fairer remuneration in the digital world.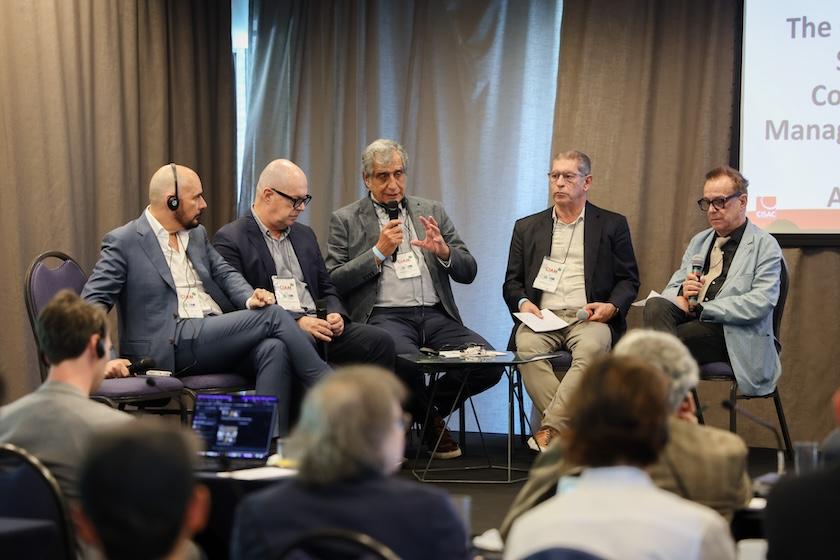 Les PDG de l'UBC, d'ABRAMUS, de SADAIC et de SACM mettent en lumière le système de gestion collective unique en Amérique latine et dans les Caraïbes.
Cristiano Machado
CISAC President Yvonne Chaka Chaka introduced the panel on "The African Context, the Challenges and the Way Forward". She stated that "a country without its creative industry, or does not support or care for its creative industry is a doomed country" before calling for governments worldwide to recognise creative industries and to provide "fair pay for the creative people". Panellists Solange Cesarovna of SCM and Wally Badarou of the African Music Academy (AMA), moderated by AMA General Delegate Sonia Mutesi Hakuziyaremye, called for effective internet, investments (e.g., spaces, venues, and training), and support for its creators. Societies in Africa need creators to support them while a lack of powerful institutions to support societies is also a challenge. African music also needs to have better visibility on the international stage, platforms that support music in Africa in any language, and events to highlight African music creators' works.
The final panel treated the challenging business of music for woman. With KODA's Anna Lidell moderating, it featured Mónica Vélez of SACM, Magdalena Matthey of ALCAM, Zanillya Farrell of BUMA-STEMRA, Lerato Matsoso of CAPASSO, and Anna Neale. The panel drew attention to the fact that royalty collections have not increased for women around the world. Testimonials shed light on difficulties, including losing opportunities once having children, a lack of opportunities for talented women, and losing slots in festivals or writing sessions because of becoming pregnant. There is a drive among women to offer inspiration to other women, as well as to "fix our mindset" and "know our worth". Solutions exist to improve the situation, including holding an annual "sisterhood meeting" to talk, relax, and network to build commercial bonds among marketers, managers, engineers, and others in the music industry. The panellists underscored the need for women to support one another, and to act and be more confident in their talents.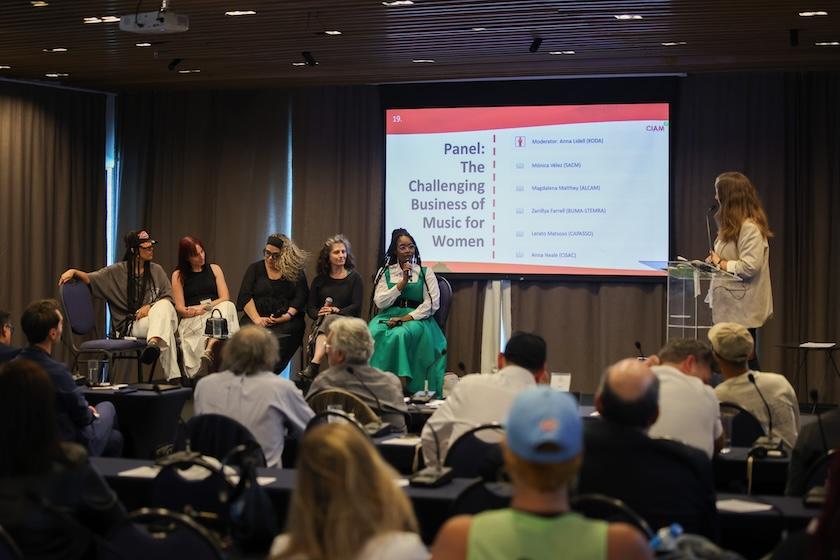 La table ronde sur les défis de la musique pour les femmes a examiné les obstacles, les solutions et les possibilités d'améliorer la situation des femmes dans le secteur de la musique.
Cristiano Machado
The GA allowed CIAM's partner alliances to summarize recent activities. ALCAM highlighted its significant contributions to training young creators, having educated over 800 in the region through 27 sessions in 7 countries. It included educating in regard to protecting works through copyright as well as production, arrangement, digital distributions, and project development. ALCAM is also working on training seniors; forming working groups in Central America, Argentina and Chilean Patagonia; broadcasting on social networks; and creating playlists for regional musicians. It also collaborates with creators needing political support in their country in defending copyright, particularly for authors who are seeing their rights threatened.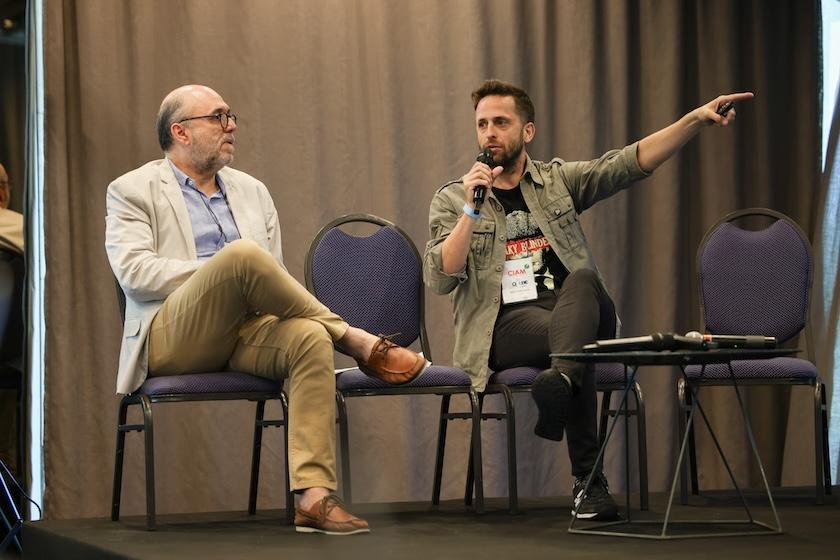 La formation des créateurs en Amérique latine est au cœur des activités de l'ALCAM dans la région.
Cristiano Machado
The Asia-Pacific Music Alliance (APMA) spotlighted its Executive Committee meeting in Bangkok, the International Music Creators' Seminar, its donations, training on copyright licensing and distribution, as well as activities around AI. For its donation activity, APMA is supporting less developed societies since APMA believes that only through developing societies can we collect fair remuneration for creators. APMA is also active in addressing copyright buy outs in the region. For AI, it is contributing to research and support on the issue, and is also active in the introduction of private copying levy and extending protection periods in the region.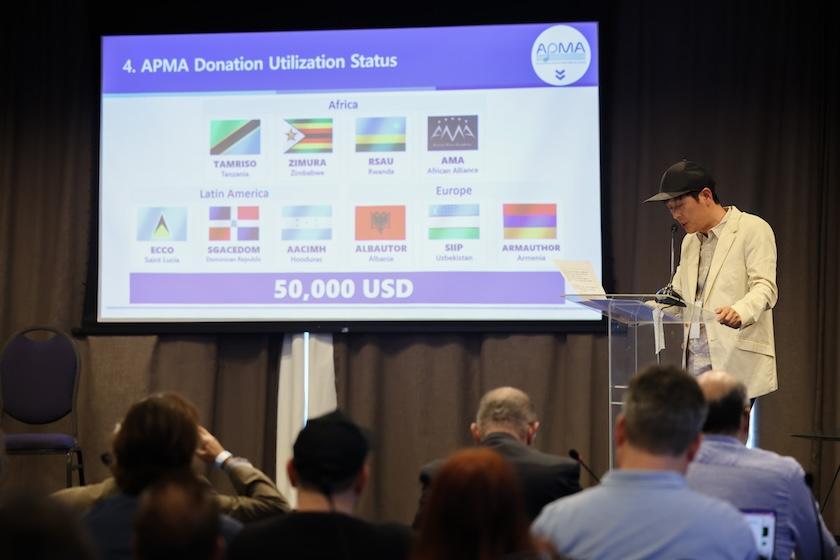 Yoon Myungsun, président de l'APMA, passe en revue les activités récentes de l'alliance partenaire Asie-Pacifique du CIAM.
Cristiano Machado
The European Composer and Songwriter Allliance (ECSA) reported on its main advocacy activities. The alliance focused on publication of a paper on "Music Streaming and Its Impact on Music Authors," which recommends the industry "share the streaming pie in a more sustainable manner" and calls for better identification, among other recommendations. ECSA also lobbied around the European Parliament CULT Committee's draft report on "Cultural diversity and the situation of authors in the European music streaming market." ECSA is active on questions of AI, particularly the AI Act in Europe, developing a working group on AI, and participating in open letters and panels on AI. ECSA is also involved in copyright buy outs and how Europe can prevent these contracts. Culturally, ECSA organised the Camille Awards' Ceremony and supports the European Contemporary Composers Orchestra Concert.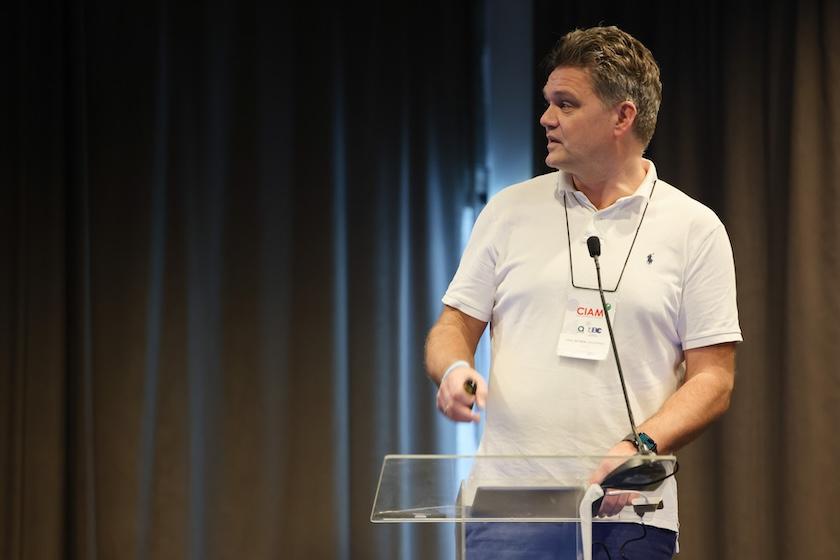 Ole Henrik Antonsen, de l'ECSA, résume les efforts de défense des créateurs et de lobbying en Europe.
Cristiano Machado
Music Creators North America (MCNA) provided updates on Bill C-11 – The Online Streaming Act, which creates a framework to regulate DSPs in Canada and is now law. Discussions are underway for reforming private copying in Canada as well as add creator representation to the CARAS and JUNOS awards. MCNA submitted comments to the Canadian government on its open consultation for AI guardrails. Finally, a free online resource for Canadian music creators, www.musiccreator.ca, became public. In the United States, MCNA Co-Chair Ashley Irwin testified before Congress about AI and intellectual property. MCNA raised objections to a freeze on mechanical royalty rates, and succeeded in having the rates raised. The alliance is meeting regularly with the MLC to encourage transparency regarding distributions. MCNA is also continuing its work on raising concerns of protecting creators' rights, and to preserve human rights.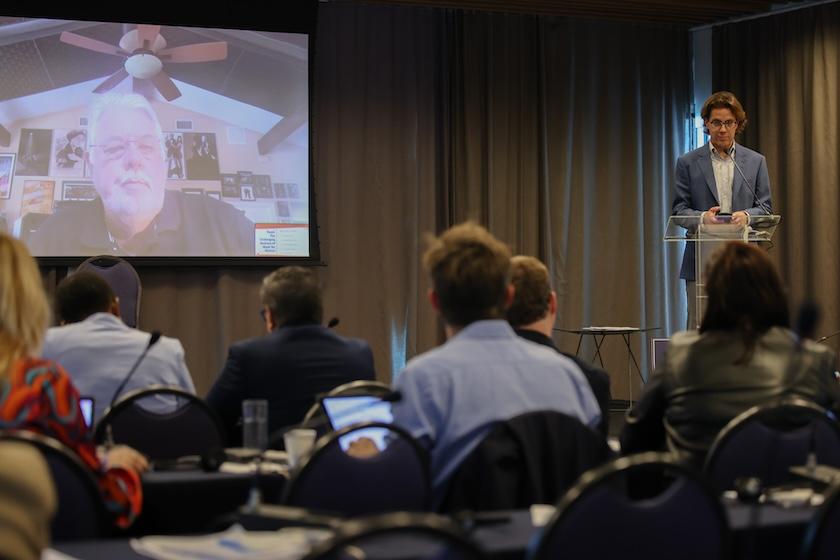 Arun Chaturvedi, de la MCNA, détaille les efforts déployés pour soutenir les créateurs de musique au Canada sur l'IA et une nouvelle ressource en ligne.
Cristiano Machado
During the assembly, APMA held a donation ceremony to help societies that do not have the financial resources to have the computers and technical equipment to make distributions to their members. APMA Chair Yoon Myungsun presented donations for societies in Africa, Latin America and the Caribbean, as well as Europe.
Fair Trade Music International unveiled its 2023 Achievement of the Year and Lifetime Achievement Awards. The Achievement of the Year Award recognised Solange Cesarovna for her role in establishing a new collective management organisation in Cabo Verde, SCM, and being an inspiring ambassador for African music creators around the world. The Lifetime Achievement Award was announced for the late Jörg Evers, who worked tirelessly for creators for decades. Jörg, a founder of ECSA and CIAM was recognised for his tireless advocacy for creators, comprehensive knowledge, and uncompromising approach, and as a dear friend who was sincerely interested in music creators the world over.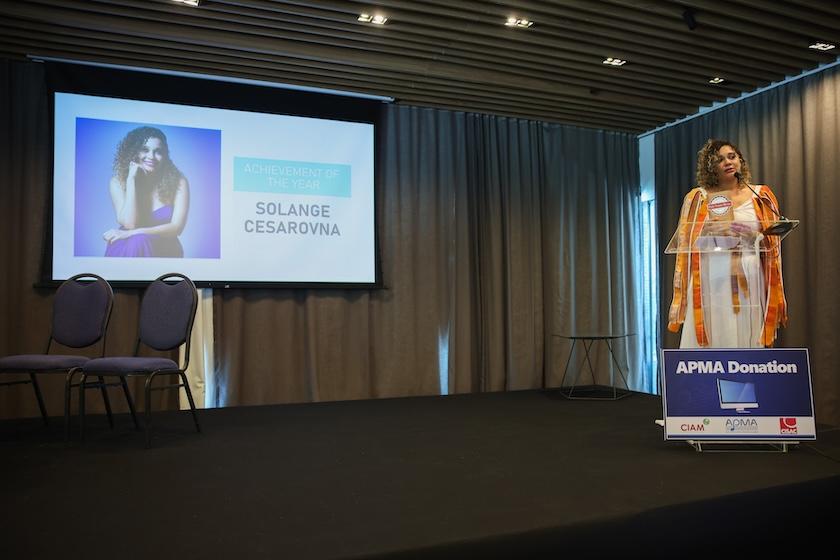 Solange Cesarovna reçoit le prix internationale 2023 de la réalisation de l'année en musique équitable.
Cristiano Machado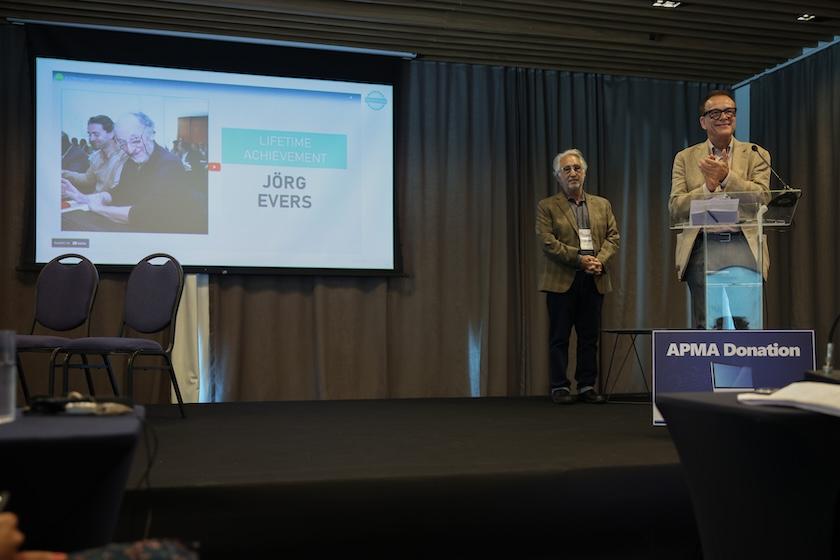 Jörg Evers a reçu le prix international 2023 de musique équitable pour l'ensemble de sa carrière.
Cristiano Machado
Concluding the 2023 assembly was a vibrant listening session of songs from CIAM's first International Women's Songwriting Camp. Featuring songwriters from Brazil, Chile, Mexico, Argentina, South Africa, the Netherlands, Cabo Verde, Canada and Denmark, women songwriters had the chance to collaborate together and share experiences over several days at visomdigital Studios in Rio de Janeiro. The CIAM goal was to support women music creators through fostering unity and share expertise in writing, composing, beat-making and production.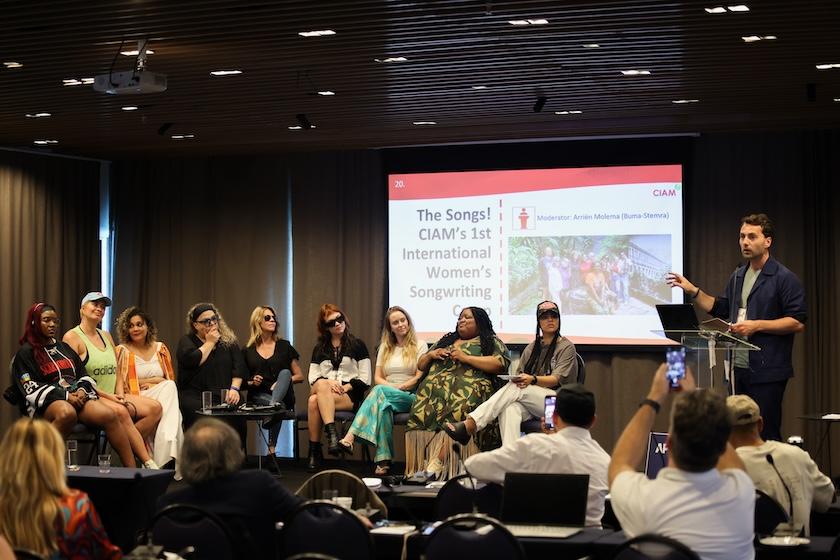 Des auteurs-compositeurs du Brésil, du Chili, du Mexique, de l'Argentine, d'Afrique du Sud, des Pays-Bas, du Cap Vert, du Canada et du Danemark dévoilent leurs chansons lors de l'assemblée générale du CIAM.
Cristiano Machado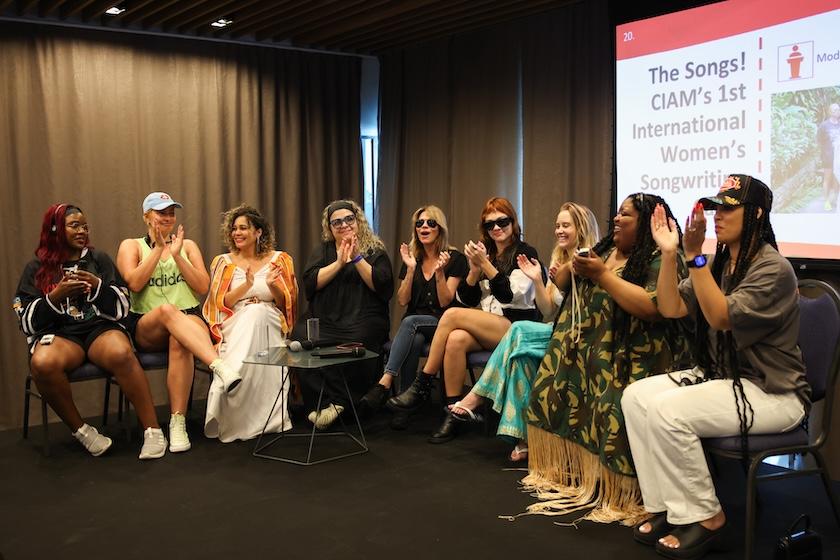 Cristiano Machado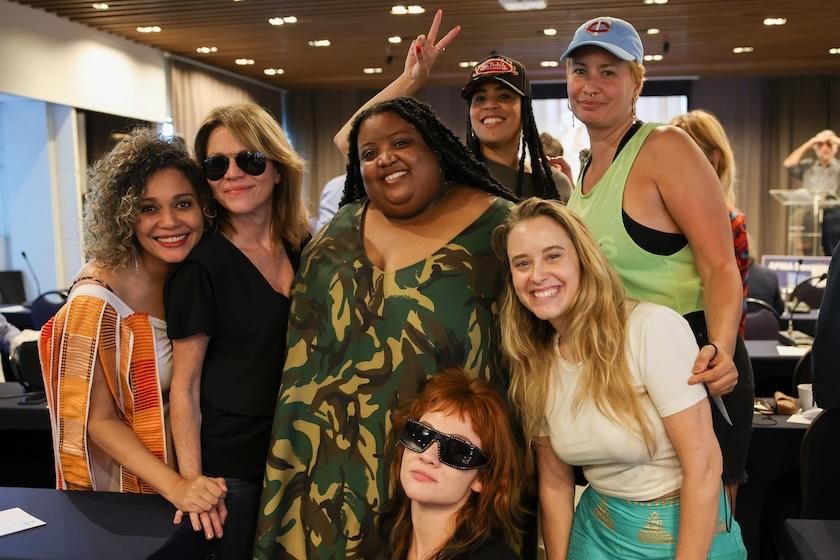 Cristiano Machado